Modern materials of construction can greatly improve the performance of heat-recovery steam generators, making it well worthwhile to consider retrofits
North American petroleum refiners are investing billions these days on modernization projects — typically, the upgrade of old crude-oil-processing equipment. But the upgrade of old steam-generating equipment could give refiners even more bang for their investment buck. Old heat-recovery steam generators (HRSGs) installed during the 1990s cogeneration boom are causing excessive downtime, and efficiency losses, and now both problems can be avoided by upgrading to newer tube-panels, which are also called "bundles" or "harps."
Materials of construction. The steel used in older harps was typically grade P-11 or P-22. These grades of steel are known by the slang term "chrome-moly" because they contain chromium and molybdenum. The numbers in each grade's name roughly correspond to its Cr and Mo content, respectively. Chrome-moly steels were the best choice in the 1990s, but that was a very long time ago, in metallurgy. Today's harps are typically made of the more-advanced P-91 steel, which contains a dramatically higher Cr content for dramatically higher creep-strength (Figure 1). Creep, to a metallurgist, is the failure caused by repeated mechanical stresses over a period of time, even though the stresses are below the yield strength of the material.  The high temperatures in HRSGs make their tube harps particularly vulnerable to creep, so an increase in the harp's creep-strength reduces HRSG failures significantly.
Retrofitting for harp upgrades. Many harp upgrades have been completed at utility-scale combined-cycle plants, according to a recent presentation by Amy Sieben, of ALS Consulting, LLC (alsconsultingllc.com) [1]. But very few harp upgrades have been reported at petroleum-refinery-scale cogeneration plants. That's a missed opportunity for refiners, because high-quality harps are more available than ever before. Today, they're available from both original equipment manufacturers, such as Vogt Power International (www.babcockpower.com) and Victory Energy (www.victoryenergy.com); and from aftermarket suppliers, such as Chanute Manufacturing Co. (www.chanutemfg.com).
In the past, retrofitting tube-panels wasn't a viable option at petroleum refineries, because their cogeneration plants didn't have the vertical access needed to make the swap. But vertical access isn't required today, because suppliers now provide a trolley system to move in their replacement harps horizontally (Figure 2).
Retrofitting harps has also become more affordable. Some recent retrofit projects have been even less expensive than a routine maintenance job that's already programmed into the plant's operating budget. For instance, today's harp retrofit typically is less expensive than doing a chemical-cleaning of the existing harp.
Example of a harp retrofit. One harp retrofit was completed on the Hawaiian island of Oahu. The Kalaeloa Cogeneration Plant, which supplies steam to a PAR Petroleum Corp. refinery, was experiencing excessive efficiency losses, caused by ash from Number 6 fuel oil fouling the harps. Operators calculated that the fouling was adding $5-million dollars per year to their fuel bill. But a harp retrofit project promptly slashed that fuel bill, and gave the refinery a more reliable HRSG.     
 Edited by Dorothy Lozowski
Reference
Presentation was given at the 2016 HRSG User's Group Conference & Expo (New Orleans, La.; www.hrsgusers.org)
Author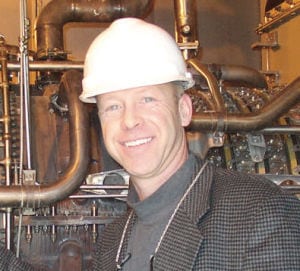 Rob Swanekamp is the executive director of the HRSG User's Group (www.hrsgusers.org; Email: rob@hrsgusers.org), a training company he founded to help owners and operators manage their combined-cycle and cogeneration projects. Swanekamp has held a variety of engineering and management positions during his 30-year career in power generation. After earning a B.S. degree in mechanical engineering from the University of Michigan, he served as electrical officer aboard the USS TEXAS, a U.S. Navy nuclear-powered cruiser. Rotating ashore, he became a plant manager overseeing a diesel-engine cogeneration plant, then a regional operations manager responsible for more than a dozen gas-turbine cogeneration plants.  A licensed professional engineer (PE), Swanekamp is co-author and editor of two professional books: the "HRSG Users Handbook," and the "Standard Handbook of Powerplant Engineering."