Last month, Andritz AG (Graz, Austria; www.andritz.com) introduced its next-generation of Metris addIQ RheoScan, the world's first patented, optical-measurement system for automatic polymer dosage in belt presses and gravity belt tables. The new generation uses artificial intelligence (AI) to optimize polymer dosing. Savings in polymer lead to operating expenditure (opex) reduction by up to 40% for sewage sludge, coal sludge or paper sludge dewatering, the company says. Using the "cutting-edge" technologies also help to maintain optimum cake dryness and to identify blinded belts, which in turn leads to smoother operations. Installations in wastewater treatment plants with digestion processes have seen the additional benefit of higher biogas yields. The new squeeze-control option enables the system to operate at the capacity limits of the machine 24/7, effectively eliminating downtime.
With Metris addIQ RheoScan, an imaging system takes pictures of the sludge surface. Each picture is divided into multiple sub-images that are classified by a previously trained convolutional neural network (CNN) regarding its particular flocculation condition, which are represented by texture and color of the sludge (see example photos). The total degree of flocculation is then calculated over all images (0% wet, 100% dry) and compared to a setpoint. A controller continuously adjusts the polymer flow to keep the degree of flocculation at the setpoint.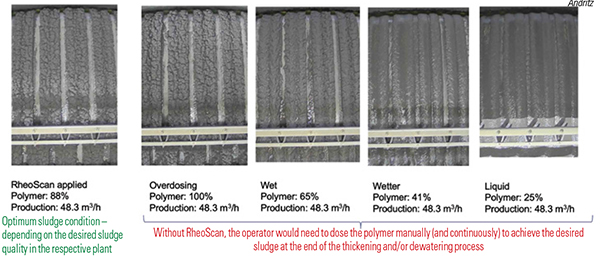 Metris addIQ RheoScan measures the actual sludge conditions throughout the thickening and dewatering stages in real time, without supervision, and can be applied to any belt press or gravity belt table in all types of municipal and industrial sludge-processing facilities. Users who have installed a Metris addIQ RheoScan generally recouped their investment in less than a year, says the company.