June New Products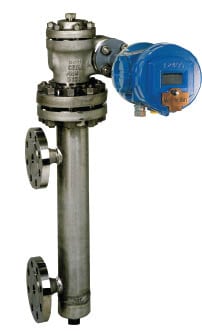 A single device
for level monitoring and control
The 12400 Series is said to be the first level instrument that integrates level transmitter, controller and switch functions in a single device. Designed for use in the petroleum-refining, petrochemicals and energy industries, the 12400 Series incorporates an industry-leading set of features, including smart filtering, HART-communication-protocol compatibility and an optional 4–20-mA analog output signal. The device meets SIL 2 compliance (pending) and is certified in full hazardous areas, including ATEX, IECEx, FM and FMc/CSA. Its frictionless sensor delivers a 0.1% measurement resolution. — Dresser Masoneilan, Houston
www.dressermasoneilan.com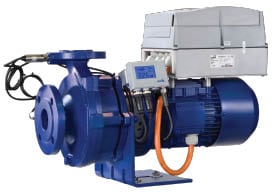 Track the efficiency of your pump
with this monitoring system
Recently launched, the PumpMeter is composed of pressure sensors and an analyzing and display unit, which is attached to the pump. The system measures suction pressure, discharge pressure, differential pressure and head. The measured and calculated values are shown alternately on the display. A typical pump curve illustrates in which range the pump is currently operating, so the user can see at a glance if the pump provides efficient and cost-saving operation or if its availability is jeopardized. The PumpMeter continuously analyzes the pump operating data, establishes a load profile and makes the operator aware of energy saving potential that could be leveraged by using a variable speed drive. — KSB AG, Frankenthal, Germany
www.ksb.com
These flow transmitters have a new look
and enhanced features
The stainless-steel housing in the design and their removable displays with backlighting are the most obvious changes to the new Element Series of digital flow transmitters. However, the redesigned housing also conceals numerous technical improvements as a result of re-engineering. These features include future-proof system architecture with a new processor and new software to optimize the performance of the sensors. The flow transmitters with 4–20-mA outputs are available in two versions: Basic (one NPN transistor output) and Advanced (two NPN/PNP transistor outputs). They comply with UL safety standards and provide long-lasting, reliable IP protection class IP 56/67. — Bürkert Fluid Control Systems, Ingelfingen, Germany
www.burkert.com
Load surges are not a problem
for this mill drive
With the Flender EMPP vertical-mill drive, this firm has developed a drive concept that prevents load surges arising from short power supply interruptions and optimizes the transfer of forces between the drive unit and the mill. The number of components that may be susceptible has been reduced, which increases the plant availability and enables the power range to be expanded to 15 MW. The EMPP features an integral, permanent magnet synchronous motor supplied by a frequency converter. The omission of the bevel gear stage and the coupling enables the high forces to be optimally transferred. The grinding plate can be precisely controlled via the closed-loop speed control of the frequency converter. Typical applications of vertical mills include crushing of raw materials and cement in the building materials industry, and for coal preparation. — Siemens Industry Sector, Erlangen, Germany
www.siemens.com/industry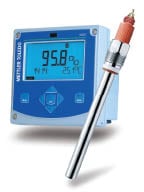 Measure O2 where it matters most
— directly in your process
Performance of oxygen measurement is now redefined with this firm's amperometric systems. These systems not only allow reliable and stable measurement directly from the process gas stream or vessel, they are inexpensive to maintain and, what is more, do not require any gas sampling system. The company's solution is available at only a fraction of the cost of most oxygen systems. Firstly, the analyzer itself is lower priced; secondly, the absence of a sampling and conditioning system is a major saving. The most valuable benefit, however, is the enormous saving on maintenance. The only maintenance required is the occasional refilling of electrolyte, which is merely a two-minute operation. — Mettler-Toledo GmbH, Greifensee, Switzerland
www.mt.com/o2-gas
Consider mill drying as an alternative
for spray drying
The Drymeister (DMR) is a continuous, flash mill dryer that economizes the drying process based on its ability to handle high-solid-content feeds, saving time and energy. In the DMR process, wet material is fed into the grinding and drying section of the main body. The impact energy imparted by the grinding rotor disperses the wet material into very fine particles. A temperature-controlled hot-gas stream is drawn by an exhaust fan through the main body and fluidizes the fine particles in the grinding chamber. The dried particles are conveyed with the gas stream to the top section, where a classifier separates the particles of desired size, which are then recovered by a cyclone or filter. The particle size of the end product can be adjusted and controlled by changing the process parameters, such as classifier speed, outlet temperature and moisture content. — Hosokawa Micron B.V., Doetinchem, the Netherlands
www.hosokawamicron.nl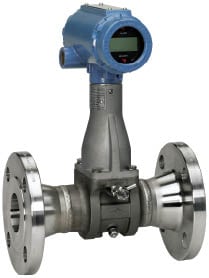 A flowmeter for increased plant availability and enhanced safety
The Rosemount 8800D CriticalProcess Vortex flowmeter enhances online vortex-sensor maintainability, while providing an added level of safety on critical applications. The unit's vortex sensor is isolated from the process, making it possible to maintain the sensor without requiring a process shutdown, greatly increasing process availability, says the manufacturer. Isolation of the sensor from the process also enhances safety by limiting personnel exposure. The device can also verify the health of the transmitter by simulating the vortex flow signal, enabling complete verification of the electrical components of the flowmeter while the process is running. — Emerson Process Management, Baar, Switzerland
www.emersonprocess.eu
The launch of a 'next generation'
coalescing agent
Oxfilm 351 is a virtually odorless coalescing agent with a boiling point of 351°C, so it has negligible contribution to a coating's VOC (volatile organic compound) content, says the producer. The agent is classified as non-VOC in Europe because its boiling point is well above the threshold limit of 250°C. Oxfilm 351 is said to be 10–20% more efficient in reducing the minimum film-forming temperature compared to alternatives. It has been tested in multiple commercial formulations and has been shown to be an efficient coalescing agent for a broad range of latex and coating types. — Oxea GmbH, Oberhausen, Germany
www.oxea-chemicals.com
Qualified offline
leak-testing of gloves
The KHD 1000 makes it possible for gloves to be tested for leaks using a validatable method before installation in the sterile area. By eliminating the need to deploy testing equipment in the sterile area, offline testing simplifies the entire production process and contributes to increased product quality and safety, says the firm. The KHD 1000's GloveFIT testing procedure exhibits high precision and reproducibility, and ensures that leaks of greater than 100 µm can be detected using a pressure-decay test. — Bosch Packaging TechnologyGroup, Waiblingen, Germany
www.boschpackaging.com
For quality control,
consider this dry sieving system
Recently launched at Powtech, the new air jet sieve e 200 LS is accredited worldwide for particle size analysis and particle quality control. The dry-sieving device is suitable for production monitoring and quality assurance as defined by ISO 9001. The only thing moving the material under analysis is the air flow. The strong jet of air exiting a rotating slotted nozzle purges the sieve gauze continuously, which leads to "exceptionally short" sieving times, and ensures that even problematic materials can be sieved successfully. The device reproducibly measures particle size in the range of 10 to 4,000 µm. — Hosokawa Alpine AG, Augsburg, Germany
www.alpinehosokawa.com
This handheld device quickly analyzes
duplex steel for N and C
The Spectrotest TXC25 high-performance, mobile metal analyzer is capable of rapidly determining the nitrogen content in duplex steels with a spark excitation, and quickly identifying low-alloy steels using carbon excitation. The unit's thin sample probe enables hard-to-reach sample areas, such as bundled rods and bars, to be easily analyzed. The device is able to quickly identify austenitic and so-called duplex alloys where nitrogen is the only differentiation compared to other stainless or high-alloyed steels. By exchanging the standard sample probe with an optional probe that is integrated with ultraviolet optics, the analyzer is able to measure elements such as N, B, C, P and S. A minimum difference in the nitrogen content of 500 ppm is necessary. — Spectro Analytical UK Ltd., Leicester, U.K.
www.spectro.co.uk
Measuring density online allows the
control system to react faster
The Liquiphant M is a density meter that provides online measurements, thus eliminating the need for extensive and expensive offline procedures and laboratory measurements. A built-in density calculator can be customized with complex tables and mathematical relations, enabling the meter to provide the same kind of density and concentration measurement once possible with only laboratory instruments. Because the Liquiphant M provides online measurements, it allows control systems to react much faster to changing process conditions, says the manufacturer. Applications include: content and concentration measurement, quality analysis, purity indication, product identification and many more. — Endress + Hauser, Inc., Greenwood, Ind.
www.us.endress.com
Ensure bottled products have the
proper turbidity with this module
With the increase of biotech products, more and more drug formulations result in slightly turbulent forms. For the distinction of the different levels of turbidity, this firm has released a new series of inspection modules. The S-Turb Module monitors the proper concentration by checking the product's turbity, for example, after agitating the product through rotation or directly after filling. The S-Turb Modules have been integrated into filling machines to check different concentrations at production speeds of 600 units/min. — Seidenader Maschinenbau GmbH, Markt Schwaben, Germany
www.seidenader.de
A quick and reproducible way
to measure foams
The DFA 100 Dynamic Foam Analyzer provides information about foamability, stability and drainage. Volumes from 20 mL are foamed with high reproducibility in a column using a gas stream or stirrer. The volumes of the foam and liquid are determined continuously and without contact. A high sampling rate enables the unit to measure even unstable foams. Software provided with the device provides characteristics such as decay half lifes or values analogous to Ross-Miles in passing, while it determines the transition from pure drainage to decay and the endpoint of drainage using new, patented parameters. — Krüss GmbH, Hamburg, Germany
www.kruss.de
Tank-bottom valves added
to this sterile product range
This firm has completed its Vesta Sterile Valve Series with various tank-bottom valve variants. The core element of the valve series is a patented, PTFE bellows sealing element. The valve series was developed specifically for the pharmaceutical, food cosmetics and biotechnology sectors, and includes shut-off, tank-bottom, and sampling valves in different housing variants, as well as valve blocks and distribution systems in the nominal widths DN 10–100. — GEA Tuchenhagen GmbH, Büchen, Germany
www.tuchenhagen.com
These pilot valves do not
consume a lot of power
The (WS)LPKF low-power pilot with Ex d certification is now available for the compact 551, 552 and 553 Series pilot valves. The valve is available with either an aluminum or stainless-steel enclosure, and with a power consumption of just 0.5 W at 24 V d.c., which is claimed to be the lowest consumption of any Ex d certified valve for the process industry. The low Wattage coil reduces battery drain and heat rise, minimizing wiring costs and provides energy savings, says the manufacturer. — ASCO Controls BV, Scherpenzeel, the Netherlands
www.asconumatics.nl
Purge and pressurize enclosures
within hazardous areas
Featuring a robust display screen and intuitive menus, the field-configurable Bebco EPS 5000Q Purge+Pressurization System facilitates simple installation and safe, seamless operation of general-purpose equipment, mounted in certified enclosures, within Zone 2 and Zone 22 hazardous areas. The 5000Q system allows the direct connection of multiple PT100 RTD temperature sensors, which provide alarm contact outputs for user configurable set points. Should the temperature exceed these set points, the digital valve will activate to automatically cool the enclosures interior. — Pepperl+Fuchs GmbH, Mannheim, Germany
www.pepperl-fuchs.com
Process nozzles that are driven with, or without air
These new atomizing spray nozzles generate a precise 50-deg hollow-cone spray pattern to ensure controlled atomization in a compact package. The nozzles are available in both airless and air-assisted styles, and are suitable for critical spray applications. The airless versions do not require an external air supply and will atomize with pressures as low as 10 psi (on water). They are available in multiflow ranges and can be installed onto a proprietary VHS micro-dispense valve for precise flow control using pulse-width modulation. The air-assisted models use an external air supply to control the atomization and allow for lower operating pressures (5 psi). — Lee Products, Ltd., Gerrards Cross, U.K.
www.leeproducts.co.uk
Up to eight of these volumetric feeders
can be coupled together
The volumetric version of the gravimetric ProFlex C feeder can be used to feed additives and fillers in powder, granulate or fiber form. The system requires no maintenance, and is available in two feeder sizes and three container sizes. Up to eight feeders can be installed in a very compact space to form one complete feeder station as the augers are positioned off center. Two discharge lengths are available for feedrates up to 9,500 dm3/h. — Schenck Process GmbH, Darmstadt, Germany
www.schenckprocess.com
Fouling hydrocarbons are not a problem
for this flowmeter
Developed for the hydrocarbon industry, the Sitrans FUT 1010 ultrasonic flowmeter features the nearly maintenance-free TransLoc mounting system that allows the transducers to be mounted on the outside of the pipe, preventing contact with the medium. This approach allows the externally mounted transducers to be calibrated for higher accuracy. It also has the additional benefit that it alleviates clogging by high paraffin liquids, which is typically seen in conventional flowmeters used in hydrocarbon applications, says the manufacturer. The device is available in two versions: one for gas and one for liquids measuring viscosities up to 2,800 cSt (centistokes). — Siemens Industry Automation Division, Nuremberg, Germany
www.siemens.com/automation
The launch of a new series
of liquid-ring vacuum pumps
Eight different pump sizes encompass the new Dolphin LS Series of liquid-ring vacuum pumps. The single-stage liquid-ring vacuum pumps in block construction achieve ultimate pressures of 33 mbar, and have suction capacities over the range of 25 to 455 m3/h. All pumps of this new generation are fitted with stainless-steel impellers, and completely stainless-steel versions are available in the 75–220-m3/h pump sizes. When combined with a gas ejector, ultimate pressures down to 8 mbar are reached. — Dr.-Ing. K. Busch GmbH, Maulburg, Germany
www.busch.de
This wet mill offers 50x
the milling energy over traditional
The Ytron HV micronizing wet mill is a rotor-stator suspension milling technology that provides an alternative to traditional media milling, with 50 times the milling energy of a conventional system. The extra energy is the result of this instrument's high-velocity rotor and unique tooling geometry. The HV Wet Mill Series features three different models ranging from 25 to 125 hp and claims to have the lowest power consumption in the industry. The equipment also features a high-speed mechanical seal that eliminates potential trap areas around the rotor for improved clean-in-place results. — Quadro Engineering Corp., Waterloo, Ont., Canada
www.quadro.com
This glass reactor is designed
for process development
The Advanced Flow LF glass reactor is a highly flexible, low-flow glass reactor that enables a cost-effective transition to higher-volume, continuous-flow chemical processing. Like others in the product line, it continuously and efficiently streams reactants together with integrated heat exchange, but it is designed for a size suited to smaller process development. Highly engineered, glass fluidic modules form the basis of the reactor, providing mixing and heat exchange not possible in batch reactors used today. — Corning Inc., Corning, N.Y.
www.corning.com
This square bin blender
accommodates common bins
This company's new square bin blender can be configured to blend square-shaped bins of any design, such as those used in pharmaceutical manufacturing. The square bin blender provides homogeneous mixing of dry powder batches using patented blending elements mounted to the inside of the container lid. The equipment can be scaled from 400 to 2,600 L, and helps minimize load time and changeout. — L.B. Bohle LLC, Warminster, Pa.
www.lbbohle.com
Document and evaluate seal data
with this online tool
SEPROnet is an online program that allows customers to document and evaluate seal-related data and is built on this company's in-house SEPRO service software program that maps seal data for systems and individual plant components. Customers can access SEPROnet in realtime from any Web browser. The program features an easy-to-use navigation interface and an extensive range of customizable evaluations and reports. The ability to quickly view information about pump systems and seal functions allows users to maintain crucial production schedules and streamline maintenance, while minimizing parts inventory and related costs, the company says. — EagleBurgmann, Houston
www.eagleburgmann.com
Align production equipment
with this laser
The Proline Alignment Kit is a visual laser system for checking and measuring straightness, flatness, squareness, parallelism and leveling for production, maintenance and plant engineering projects. The Proline Laser produces a crisp, collimated laser reference beam that is parallel to the side and base surfaces within 0.003 deg (<0.030 in. at 50 ft). The kit is suited for setting straight machinery runs, aligning production equipment, transferring mechanical points, locating shafts and bearing mounts, aligning belts and pulleys and other industrial tasks. — Pinpoint Laser Systems Inc., Peabody, Mass.
www.pinlaser.com
Gerald Ondrey and Scott Jenkins