The gas subcooled process (GSP) is a method for low-temperature separation of natural-gas liquids (ethane, propane) from natural gas. Depending on the current market prices of ethane and propane, gas processors extract ethane from the natural gas or reject it and try to recover propane. Newly launched technology from BCCK (Midland, Texas; www.bcck.com) is designed as an add-on for existing natural gas facilities to enhance propane recovery when operating with ethane rejection. Known as G2R-Flex, the patent-pending technology is capable of maintaining a high rejection rate of ethane molecules, while boosting propane recovery.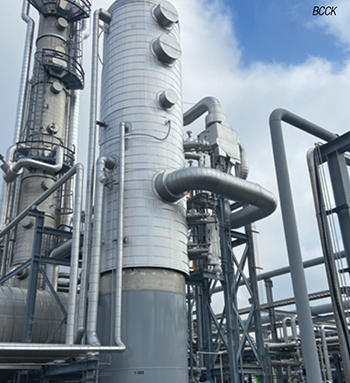 Developed over the past 18 months, the G2R-Flex is being launched commercially for the first time. In March, BCCK announced the first installation of the G2R-Flex, at a cryogenic gas-processing plant in Ohio that uses the GSP (photo).
"With the addition the G2R-Flex unit, we can observe propane-recovery rates of more than 99% while also maintaining a high rejection rate for ethane," says Jamey Wasson, director of process engineering at BCCK, compared to 95% propane recovery with the conventional technology. "The increased propane recovery can have significant financial benefits for gas processing operations," adds Greg Hall, executive vice president at BCCK.
The G2R-Flex setup consists of a set of pumps, a vessel and heat exchangers. To achieve the increased propane recovery, company engineers concentrated on designing the process equipment to carefully control the gas flow within the system.