The seventh annual Connected Plant Conference (www.connectedplantconference.com) — presented by Chemical Engineering and sister publication POWER Magazine — is taking place at the Marriott Canal Street in New Orleans, La. on Jun 25–28. The event will bring together industry experts to discuss practical advances in digitalization and industrial internet of things (IIoT) technologies in the chemical process industries (CPI) and power generation sector.
No matter where an organization is in its digitalization journey, Connected Plant Conference offers opportunities to gain valuable knowledge and skills that increase the chances of success. With a wide array of technical presentations and networking sessions, the conference will cover the entire gamut of cutting-edge topics driving practical digital transformation, including cybersecurity, artificial intelligence, remote monitoring and much more. CPI companies who will be presenting at the conference about their digital transformation progress include:
Evonik
ExxonMobil
Albemarle
Covestro
Celanese
BP
BASF
Connected Plant's technical program will officially kick off with an intensive keynote session, "Quantum Computing: Going Beyond the Buzzwords." A series of expert speakers will address the current capabilities and future potential of quantum computing, which uses the principles of quantum mechanics to perform complex calculations more rapidly than traditional computing solutions. Clearly, the types of complexities encountered in CPI operations are prime candidates to benefit from quantum technologies.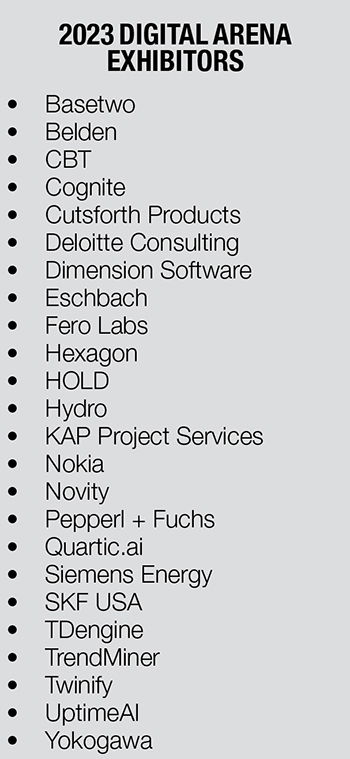 The event also features a Digital Arena, where the industry's leading technology providers will present hands-on demonstrations of their products and provide practical guidance to engineers looking to implement advanced new solutions.
"Digital technologies are already having an impact on process safety, energy efficiency and asset reliability at chemical manufacturing sites of all types. But across the scope of the CPI, digital technologies have not come close to reaching their full potential, and the digital transformation remains in its early stages for large swaths of the CPI. Identifying opportunities for digital tools at plant sites, as well as developing solutions and scaling up successes, is challenging, and achieving success requires specialized knowledge, specific skills and organizational culture change," says Chemical Engineering senior editor Scott Jenkins.
The benefits of digitalization touch all aspects of operations, from economics to efficiency to environmental, social and governance (ESG) considerations. "Advancements in digital technologies are leading the innovation charge today and having a verifiable impact on the efficiency, reliability and safety. On a larger level, digital tools could optimize grid operations and help more efficiently integrate low-carbon resources, allow utilities to collect detailed real-time data on energy consumption and grid performance, optimize energy storage capabilities and even respond to changes in demand and supply," notes POWER senior associate editor Sonal Patel.
Networking opportunities abound at Connected Plant, with plenty of offsite options to explore the unique atmosphere of New Orleans. From guided food tours to local wildlife, connect with industry peers while enjoying the city. The social schedule also includes a Mardi Gras masquerade party and a poolside cocktail hour.
Another highlight of the event is the announcement of the Game Changer Awards, which recognize outstanding achievement in digitalization projects. Previously, the Game Changer Awards have honored truly cutting-edge digitalization projects executed by Chevron Phillips Chemical, Northrop Grumman, Covestro, Fero Labs, Eastman Chemical, Emerson, 3M, Shell, Henkel, ABB and more.